Are you Thinking About Life Insurance?
A study from 2018 revealed that around 60% of Americans had some kind of life insurance.
So if you haven't been looking into life insurance, you're in the minority.
How Does Life Insurance Work?
Life insurance is a contract you make with an insurance company which guarantees a lump-sum of money paid to designated beneficiaries upon your death. The total amount of the death benefit depends on the kind of life insurance policy, and how much it costs. Like other forms of insurance, you pay a monthly (or yearly) premium in order to keep the policy active - and it can lapse if you miss a payment.
Why Should I Buy Life Insurance?
Although not everyone is in the same situation, you should seriously consider buying life insurance if you have not already. Taking care of our loved ones is a responsibility we all must face, and having life insurance is a way to protect them once you are no longer able to. It's a good idea for anyone, but especially if you're still in your working years and have a family to support. In the event of unexpected death, the policy will provide a financial safety net to help them. Life insurance can also offset any funeral costs, which can range from $6000-$10,000.
You should also consider buying life insurance if you are in the following situations:
Getting Married

Buying a Home

Supporting a Family

Changing Jobs

Starting a Business

College Expenses

Planning an Estate

Paying a Mortgage

Paying off Debt
What Kind of Life Insurance Is Right for Me?
There are essentially two kinds of life insurance: term life and permanent. The biggest differences relate to the length of the policy, and how much it costs. There's also an added benefit with permanent insurance policies: they include an investment component with a cash value.
Term Life Insurance
In term life insurance, the policy is active for a set amount of time (such as 1, 5, 10 or 20 years). After the term ends, the policy expires and policyholder has the option to purchase a new policy. The benefit of term life is that it is cheaper and meets short term needs. However, the underwriting process for the new term plan may result in a significantly higher rate due to the increased age of the policyholder (among other factors).
Another benefit to a term life insurance plan is that you can lock in the same rate for the entire length of the policy, and you can select the payout amount. For people younger in age, the premiums can be far less expensive than other kinds of life insurance.
Whole Life Insurance
The most common version of permanent life insurance is "whole life". With this kind of policy, your premiums rates are set and will not increase over time. The benefit of having whole life insurance (as compared to term life insurance), is that the policy has an actual cash value and the coverage exists for as long as you continue to pay the premiums.
Permanent Life Insurance
There are two different kinds of permanent life insurance: "whole life" and "universal", both of which typically have higher premiums than term insurance policies.
As the name indicates, a permanent life insurance policy has no expiration date and lasts for your lifetime. There's also an investment component with permanent insurance known as the policy's "cash value". This amount will grow slowly over time as a tax-deferred asset. This is beneficial because you can borrow money from the account if you need it - although you would have to repay any loan with interest to avoid reducing the amount of the death benefit. You also have the option to deactivate your policy in exchange for the cash value if you need the money.
Another reason to go with a permanent life insurance policy relates to estate planning. If you want to transfer your wealth to your family without being taxed, you can invest money in your life insurance policy as a part of the cash value. This will be transferred to your beneficiaries tax free and can provide long term income far into their future.
Universal Life Insurance
In universal life insurance, the policyholder has the option to change how much they're paying for the policy as well as adjust the death benefit. It's sometimes referred to as "adjustable insurance" because of its flexible nature. Universal life insurance is good for people who want to raise or lower their premiums and benefit levels depending on their current financial situation. You also have the option to use money which has accumulated from the policy's cash value to pay for the premiums if you are struggling to pay monthly.
How Much Does Life Insurance Cost?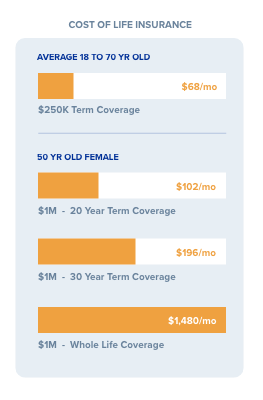 The cost of life insurance depends on the plan. Policies which have higher payouts will have higher monthly premiums. When browsing the different plans, you should select coverage based on things like the amount of potential income you think you'll earn in your life, your assets and liabilities, existing insurance, and other family expenses.
There's also an underwriting process which directly affects how much the policy costs. The insurance company will factor in things like your age, lifestyle and overall health before setting the rate. As you might expect, people who are in poor health would have to pay more than someone who has no history of medical conditions. Your family medical history is also taken into consideration to determine the premium amount.
Term life insurance costs significantly less than whole life insurance. On average, a healthy person between the ages of 18-70 would pay around $68 a month for a term life insurance policy with a $250,000 payout. A woman around age 50 would pay around $102 per month for a 20 year term life policy that paid out $1,000,000. For a 30 year policy with the same payout it would cost around $196 per month. As a comparison, it would cost the woman $1480 per month to have a whole life insurance policy. If she chose a universal plan, she could set it to a lower amount - although this would reduce the death benefit.
How to Apply
Applying for life insurance is easy, especially since you can do most of it online. It all starts with shopping around and choosing what kind of coverage you want. Be sure to choose a payout amount which is enough to provide for your family during the years you would be responsible for paying the bills. Remember, you can always get a free quote online before committing to anything. Once you find a policy you like, you can start the application process by filling out the required information.
In the underwriting process you may be asked to provide up to date medical records, or take a new medical exam. You'll also complete a brief phone interview with someone from the insurance company - during which time you can ask any questions you may have. Once you're approved you'll be sent detailed information about your policy; including how much it costs, a list of your beneficiaries, and the death benefit amount. Your life insurance coverage officially begins once you sign the policy.
Don't Go Without It
Life insurance is essential to secure your loved ones financially after you're gone.
It may not be something you want to think about, and we can live a healthy lifestyle to make sure we live as long as possible. Things like balanced eating, regular exercise, and minimizing stress can help. But unfortunately, there's so much in life that's outside of our control. Accidents and illness happen, and sometimes result in unexpected death. Without life insurance your family would be severely set back.
It's important for your loved ones to be taken care of financially after you're gone. Life insurance guarantees this. Especially in the case of untimely death, the payout helps replace the income you would have made during your working years and beyond.